TikTok has become a crucial platform for businesses looking to connect with their target audience and promote their products. In KSA, where Tiktok users reach 22M, some businesses are driving massive engagement through this platform. One such business is Alrifai, a household brand founded in 1948, which specializes in roasted nuts, kernels, seeds, dried fruits, and coffee range. In Hashtag, we believe in the power of TikTok to drive awareness and sales, and we just did that with Alrifai, In just three days, Alrifai went from having no presence on Tiktok to amassing 13,000 followers, a remarkable feat that was achieved through a well-crafted social media marketing strategy. Here's how they did it. 
Creative Content that Resonates
One of the key factors behind Alrifai's Tiktok success was their ability to create engaging and shareable content that resonated with the Saudi audience. They crafted content that was not only relevant to the brand but also aligned with the preferences of Tiktok users in KSA. By leveraging trendy sounds and hashtags that had Saudi local insight, they made their videos fun and engaging for people to watch, and the videos delivered quick, direct messages that made it easy for consumers to understand.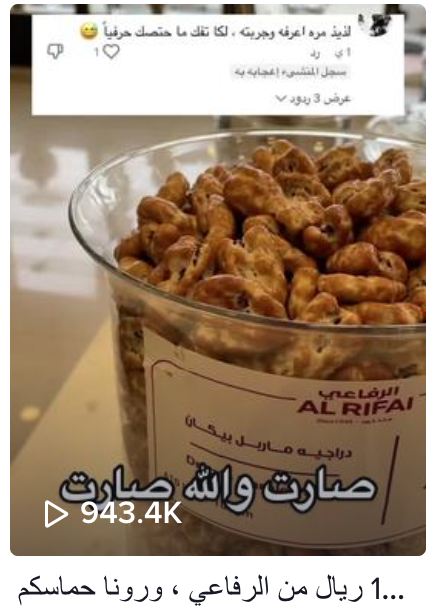 Viral Videos that Sparked Interest
Alrifai's Tiktok success was further propelled by a few viral videos that gained widespread attention and helped boost their follower count. These videos featured trends moving in KSA, unfamiliar products, and showed seasonal products that people tend to buy and try more in Ramadan season, for example. One video, in particular, focused on the marble pecan as the new addiction, and it garnered millions of views, significantly increasing their visibility in the Saudi market and attracting a large number of new followers. These viral videos not only showcased Alrifai's products in an innovative way but also generated curiosity and interest among Saudi Tiktok users.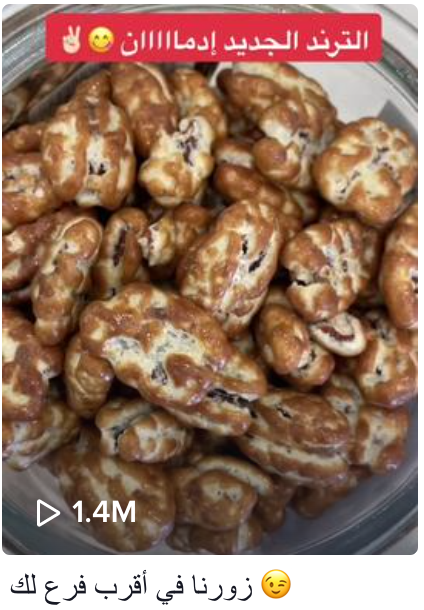 Engaging with the Tiktok Community
Alrifai's success on Tiktok was also fueled by their active engagement with the Tiktok community. By replying to people's comments in white Saudi language and creating offers based on their requests, they were able to build trust and loyalty among their followers, who were more likely to wait for future videos and offers. To ensure that their followers always had fresh content to engage with, Alrifai consistently posted new videos and engaged with their audience.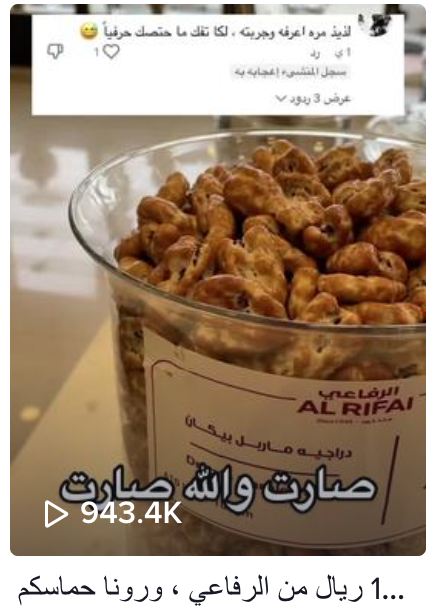 Finally, the right timing makes a big difference, the TikTok laucnhed during Ramadan, where users engage more with food content more on Social overall.
In conclusion, Alrifai's Tiktok success is a prime example of how businesses can effectively leverage this platform to promote their brand in Saudi Arabia and connect with their target audience. By focusing on creative content that resonates, viral videos that spark interest, and engaging with the Tiktok community, Alrifai was able to quickly grow their presence on the platform and create a thriving community of nut enthusiasts. Their story serves as a masterclass in social media marketing and highlights the importance of keeping up with the latest trends and engaging with your audience on a consistent basis.