Last year, Max Fashions, the leading fast fashion brand, proudly unveiled a captivating hero video in honor of KSA National Day. This video showcased the brand's commitment to celebrating Saudi pride and embracing the spirit of this significant occasion. What better way than finding Local Heroes who reflect the values pride of KSA.Featuring influential Saudi entrepreneurs and influencers from various backgrounds, the video shared their inspiring stories of personal and professional growth, highlighting the role Saudi Arabia played in their success.
Created in collaboration with Hashtag Social Media Agency, Max Fashions' hero video beautifully captured the vibrant spirit of Saudi Arabia. Through visually stunning imagery and heartfelt narratives, the video showcased the nation's rich cultural heritage and the strides it had made in fostering entrepreneurship and innovation.
The video featured four remarkable Saudi influencers and entrepreneurs, each representing a distinct career field. These individuals shared their personal experiences and expressed gratitude for the opportunities and support they had received in Saudi Arabia. By highlighting their achievements and journeys, the video served as a testament to the nation's commitment to nurturing local talent and creating a thriving business ecosystem.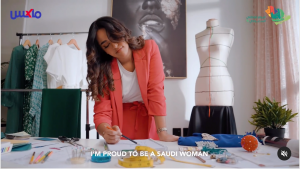 Since its release, the hero video garnered impressive engagement on social media platforms. It achieved over 25,000 plays, reached a staggering 200,000 individuals, and received 754 likes, 7 comments, 71 shares, and 51 saves. These exceptional statistics demonstrate the video's ability to resonate with viewers and create meaningful connections.
As a leading fast fashion brand in Saudi Arabia, Max Fashions takes great pride in representing the nation's style and identity. Through collaborations with influential figures and the creation of compelling content, Max Fashions reinforces its commitment to celebrating Saudi National Day and supporting local talent. By blending traditional elements with modern trends, the brand enables individuals to express their national pride while embracing their unique sense of style.
Max Fashions' hero video for KSA National Day last year successfully captured the spirit of Saudi Arabia, inspiring viewers with the stories of influential Saudi entrepreneurs and influencers. As the nation celebrated this significant occasion, Max Fashions embraced Saudi pride and encouraged individuals to express their national identity through fashion and style.