More brands have been exploring Instagram after the channel matured around the world. Most of them wanted to be there where millions of people are there; they wanted to engage with them.
We followed many brands on Instagram recently, most of the time we weren't impressed by the content produced, we have seen more print ads being posted on their profile than images, less videos than we imagined, and less engagement, however, we applaud all who tried.
Then came along global brands that seemed like they cracked the hard lock of success on Instagram, Nike, Starbucks and many others, however, looking again at clients in the region, no one made it yet! If we look at the biggest brands in the region for benchmarking, Telecoms for the biggest part, we can easily see that they are still using direct approach (bribery) if we may say, by asking people to like and comment to win, there wasn't any clear engagement genuine content out there.
Then the moment of truth arrived, we were assigned with the task to handle one of the world's biggest brands Instagram profile. We were excited and scared at the same time, that's a big challenge.
We know one thing though; it's all about creating GREAT content that keeps your followers engaged and always thirsty for more.
We started the account with 4000 followers, an average of 200 likes and 50 comments on each post and mostly print ads content.
We thought to ourselves how could we engage with our customer.. Games are the answer! However, instagram does not support applications like Facebook. We came up with the idea of Games in the form of videos. This was the KEY that opened the door for a successful Instagram account.
The content included weekly games in the form of videos (we didn't ask for likes and comments):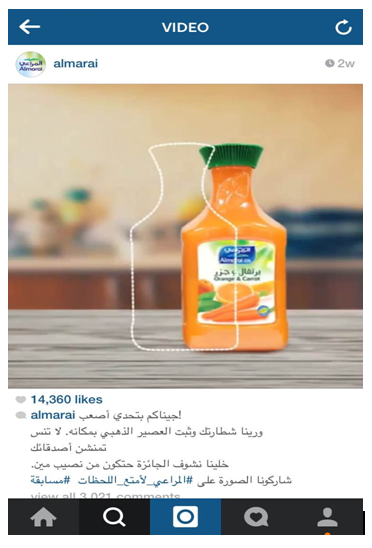 By actively engaging these users with the weekly games Almarai has gained 26,000 new followers within one month. Also, the interaction on the daily posts increased from 200 likes to 1,200 likes per post. Additionally, the videos started being circulated on other social applications such as Whatssap where people started sharing with their family and friends. We took the opportunity and success was our friend.
Finally, Almarai also changed its strategy from creating pictures on Photoshop to taking lifestyle pictures that relate to the nature of the platform. Instagram is all about taking real time pictures that tell a story, which creates a DIRECT relationship with the brand's followers.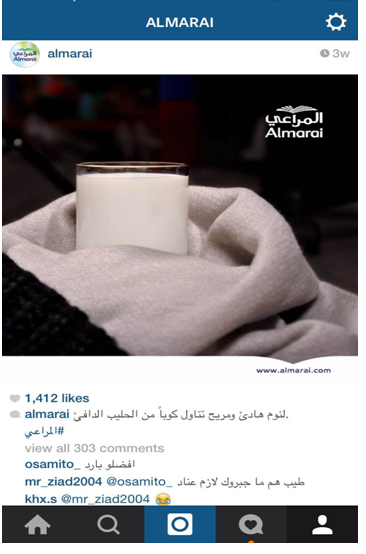 Today, we are at 30,000 strong followers, an average of 2000 likes per post, and comments reached to 4000 at one point.
Ps. remember always to challenge yourself because success does not happen unless you take risks. Taking the risk of changing the strategy and exploring this new platform is what created a success story and a case study.
We are ready for our next challenge.
Sincerely,
A Hashtager
Suha Sewaralthahab